Stay in a Kyo-Machiya just like it was home...
Kyo-Machiya are unique Japanese style traditional wooden houses, which are deeply rooted in over 1,200 years of Kyoto culture.
Kyoyado USAGI is located in a complete Kyo-Machiya building which has been renovated into a Japanese modern Machiya.
Luxurious open space, extraordinary atmosphere, extensive facilities,
and warm hospitality will make your stay a very special and memorable one.
Come enjoy a comfortable stay and immerse yourself in part of Japan's beautiful culture.
ONIWA
Deluxe Suite(120㎡)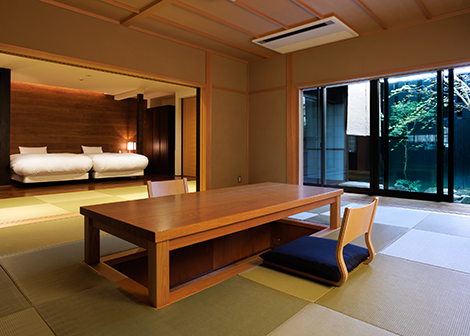 A wide-open atmosphere awaits you in this unique unit. It's 1st floor room of 2-story house. Enjoy the elegant views of the courtyard from the Japanese style Tatami room and dining room. Naguri Processing, essential process for Japanese traditional architecture, has been incorporated into the beautiful wall in the bedroom. You will cherish and enjoy this unique Japanese space which no ordinary hotel can provide.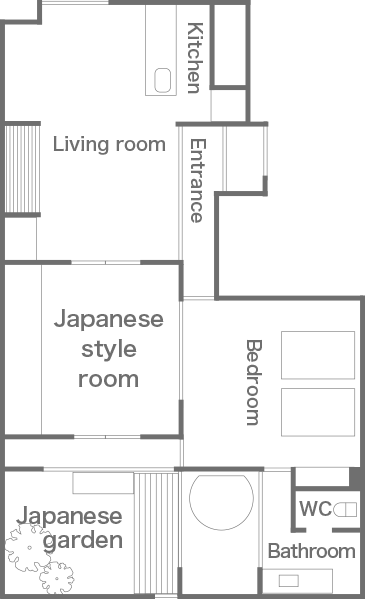 OSORA
Deluxe Suite(132㎡)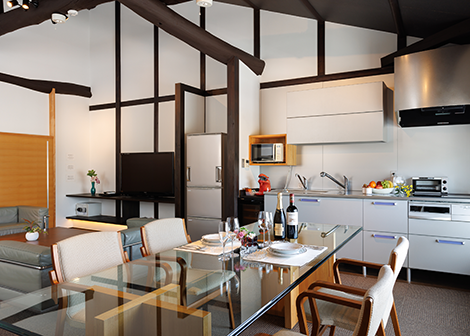 It's 2nd floor room of 2-story house. An upstairs room, you will be surprised with high-ceilings in the living room. Japanese wooden crossbeams - Gorombo- and traditional furniture gives a profound feeling. The stylish furniture and checkered pattern wall of bedroom create modern Japanese impression. The historical building with its modern touches create a juxtaposition of comfort and culture.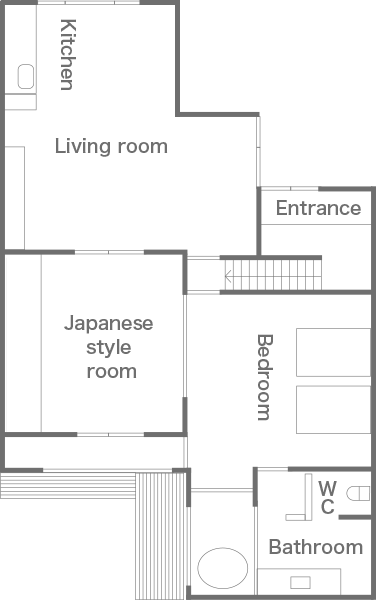 OYAMA
Deluxe Suite(135㎡)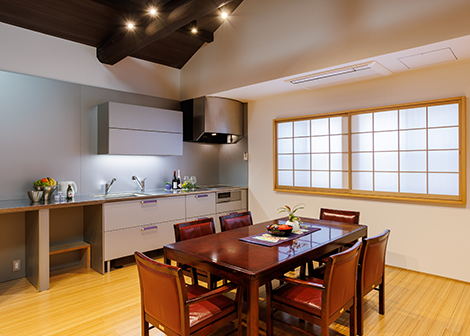 Open space from the entrance through to the Japanese style room gives a view Tatami floor that is absolutely peaceful. You can enjoy the view of beautiful red leaves in the courtyard in the autumn from the Japanese style Tatami room and even the bathroom. Moreover, you can see a view of the Southwest turret of Nijo castle from kitchen windows upstairs, a world heritage site.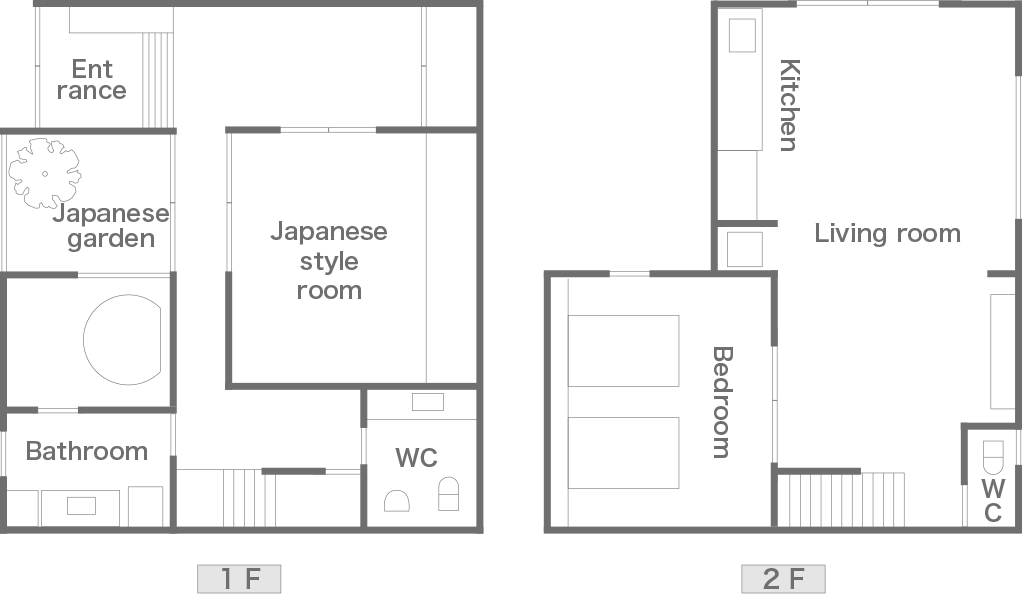 OIKE
Deluxe Suite(136㎡)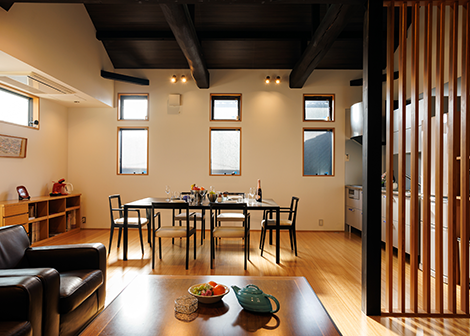 Feel the luxury and relaxation during bath time looking our biggest courtyard. The cherry blossoms are breathtakingly beautiful in the spring. You can also feel the comfort of the Japanese Tatami floor. Upstairs the modern style is completely different from the Japanese traditional style downstairs. Enjoy the beauty that is created by the fusion unit of Japanese modern style.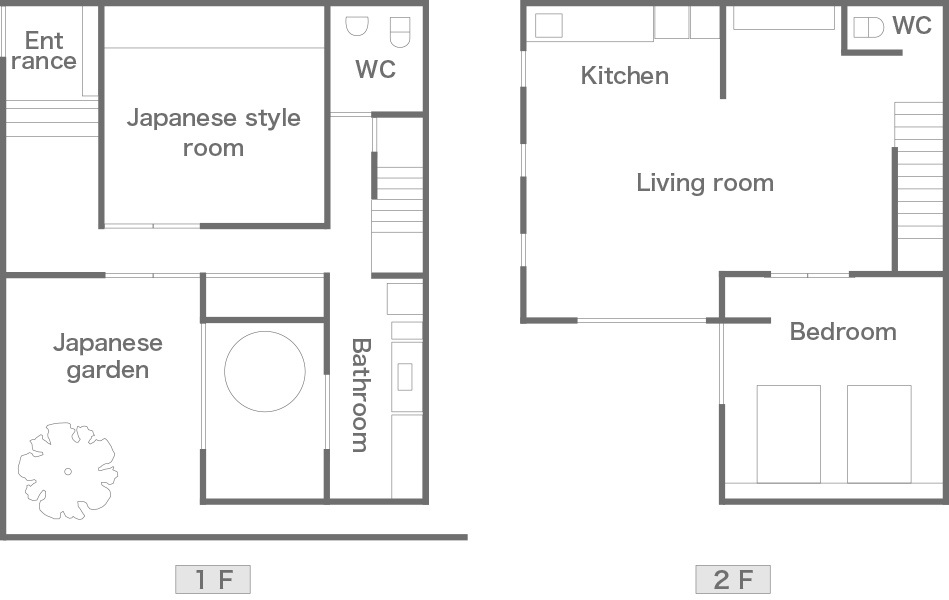 OHOSHI Bettei
Suite(101㎡)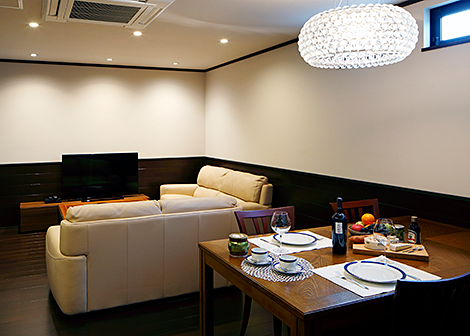 The blue wall will remind you of the night sky as soon as you enter the gate. The living and dining room on the first floor are decorated with a calm brown color. Make yourself at home on the soft and comfortable sofa. Windows in the bathroom with a jacuzzi are capable of fully opening, so that you can relax and enjoy looking at an authentic Japanese garden as if you are in an outdoor bath. On the second floor, there is a main bedroom and a Japanese Tatami room, FUTON will be set for 3rd and 4th guests in the Japanese room.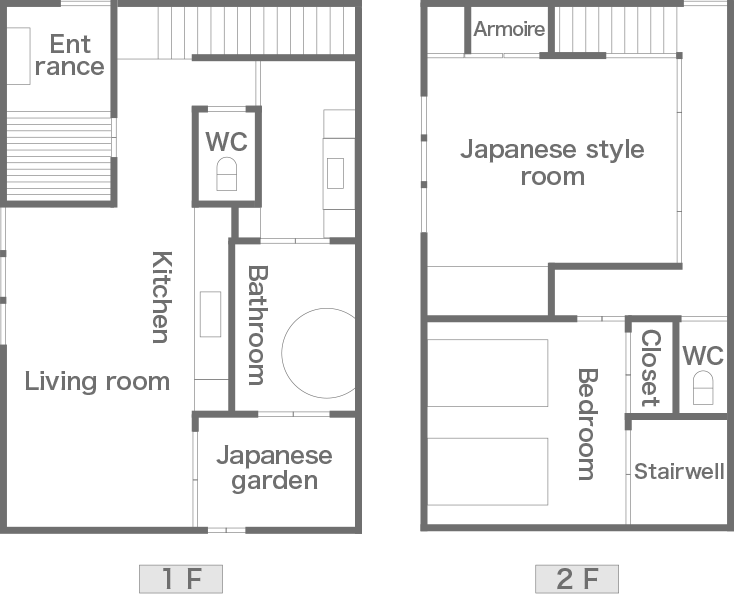 OHANA Bettei
Suite(101㎡)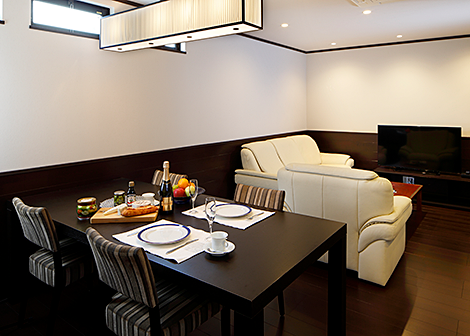 A red wall warmly welcomes you, reminiscent of rose petals. The living and dining room on the first floor are colored in black and white stylishly designed. In the garden, there are Tsukubai (a stone water basin), Japanese lantern, Tobiishi (stepping stones), which will make you feel that you are in the calm temple. It is fascinating to watch the water wave reflect from bathroom. On the second floor, two Simmons queen beds are set in a main bedroom to let you have a peaceful sleep.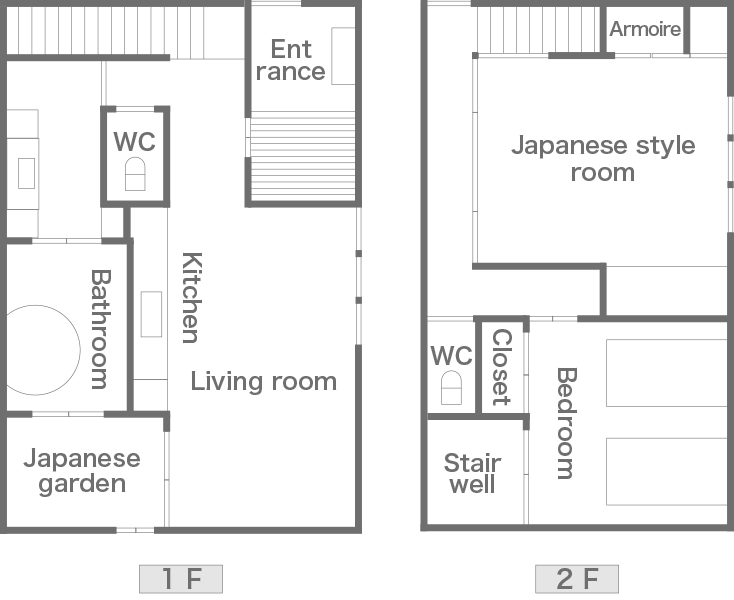 ROOM FACILITIES

Free internet access (Wi-Fi/Wired LAN)/ Large LCD TV/ CD&DVD player/ Air conditioner/ Floor heating/ Air Purifier with Humidifier/ Washing & Drying machine/ Jacuzzi bath/ Bidet toilet/ Safety box
※We lend ironing set, rice cooker, electric hot pot, cleaner, extension code. Pls ask the desk.
AMENITIES

Shampoo & Conditioner/ Body & Hand soap/ Body wash, Face & Bath towel/ Toothbrush set/ Hairbrush/ Hair dryer/ Razor/ Shower cap/ Absorbent cotton/ Yukata (Japanese pajama, M and L size only)
KITCHEN FACILITIES

【Kitchen utensil】
IH Cooking System/ Refrigerator (soft drinks for free, alcohols charge)/ Microwave/ Coffee maker/ Toaster/ Kettle/ Cutting board/ Knife/ Pot/ Frying pan/ Bowl/ Ladle/ Spatula / Tongs/ Wine & Bottle opener/ Ice bucket
【Tableware】
Dinner plates/ Dessert plates/ Salad bowls/ Chopsticks /Knives , Forks , Spoons/ Cups/ Champagne & Wine glasses

※Please prepare your own groceries & seasonings.
PRICE LIST
1-2 persons
3 persons
4 persons

Deluxe Suite


【Maisonnet type】
OYAMA

/

OIKE
Basic
Rate
55,000JPY
(27,500JPY)
71,490JPY
(23,830JPY)
88,000JPY
(22,000JPY)
Special
Rate
77,000JPY
(38,500JPY)
93,510JPY
(31,170JPY)
110,000JPY
(27,500JPY)

Deluxe Suite


【Flat type】
ONIWA

/

OSORA
Basic
Rate
55,000JPY
(27,500JPY)
71,490JPY
(23,830JPY)
88,000JPY
(22,000JPY)
Special
Rate
77,000JPY
(38,500JPY)
93,510JPY
(31,170JPY)
110,000JPY
(27,500JPY)

Suite


【Maisonnet type】
OHOSHI

/

OHANA
Bettei
Basic
Rate
44,000JPY
(22,000JPY)
60,510JPY
(20,170JPY)
77,000JPY
(19,250JPY)
Special
Rate
66,000JPY
(33,000JPY)
82,500JPY
(27,500JPY)
99,000JPY
(24,750JPY)
※ Consumption tax is included in the above prices.
※( )is price per person
※ Accommodation Tax will be collected when check-in.
※ Special Rate days:New Year Holidays(29 Dec~3 Jan) Golden Week(29 Apr~5 May) Spring & Autumn seasonal period
※ Maximum 4 people per room.
※ We have 10% discount for guests when stay for consecutive nights.
※ We regret children under 12 years old cannot be accommodated.

Cancellation fee

30% of accommodation fee when notice is given within 14-2 days prior to the arrival date.
50% of accommodation fee when notice is given 1 day before the arrival date.
100% of accommodation fee if notice is given on the arrival date or no-show.
※ In case of natural disaster or public transportation stoppings prevent you from arriving, please contact to inform us about your situation.
ACCESS
Kyoyado USAGI
Address

Room OYAMA/OIKE/ONIWA/OSORA

1 Hokusei-Cho, Nishinokyo, Nakagyo-Ku, Kyoto Japan

Room OHOSHI/OHANA Bettei

56 Shokushi-cho, Nishinokyo, Nakagyo-Ku, Kyoto Japan
※2mins walk between above two property.
Phone

075-821-1112 (+81-75-821-1112)
Check-In time

4:00pm~6:00pm
※Pls consult in advance for late check-in.
Check-Out time

until 11:00am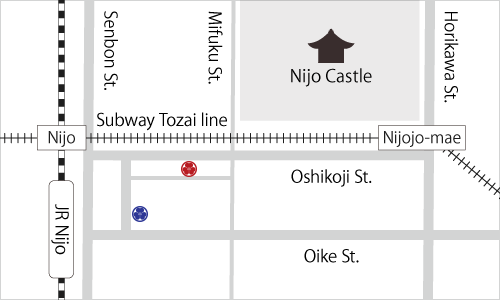 - Room OYAMA/OIKE/ONIWA/OSORA
- Room OHOSHI/OHANA Bettei
By Train
From JR Kyoto Sta.

15 mins by TAXI
From JR/Subway Nijo Sta.

5 mins walk
2 mins walk to BETTEI
※Go out from EAST EXIT of JR, EXIT1 from Subway
By Car/Taxi
From JR Kyoto Sta.

15 mins
From Arashiyama area

30 mins
From Gion area

15 mins
From Kyoto Minami IC, Meishin Highway

30 mins
GUIDE
Please read the terms of service before booking.
Smoking and flammable materials are prohibited

Because every building of Kyoyado USAGI are wooden houses, smoking and flammable materials are strictly prohibited in all location including courtyard, entrance area and backyard area.
Please refrain from making loud noises

We provide soundproofing but it is limited because USAGI is wooden house. Please do not run around and be careful of loud conversations. Especially we would like to kindly ask out guests who are staying upstairs in "OSORA" to be very careful, loud sounds can easily go through to downstairs. If by any chance your stay caused trouble to other guests or neighbors, necessarily we will ask you to leave. In that case the accommodated charge once paid will not be refunded. Thank you for your understanding.
Check-In time. 4:00pm~6:00pm

Kindly make a call in advance to let us know your arrival time for check-in, or if you will be late for any reason. In any case we close the reception on 10:00pm.
Check-Out time. Until 11:00am

We are sorry that late check out is not possible.
Accommodation with children

We regret that we do not accept children under 12 years old either we do not have rate for children. We apologize for this inconvenience.
Meals

There is no restaurant in our property. We facilitate kitchen, cooking items in every room. You can choose dinner inclusive plan if you wish. Please check Plan&Reservation on our site. We are happy to reserve you any restaurants in outside or BENTO (box of lunch or dinner) to eat in your room. Please contact our concierge in advance.
Reservation and Payment

You can make a reservation directly from our homepage. All room charges must be paid in advance by credit card, VISA, MASTER, AMEX, JCB, DINERS or by bank transfer. Booking will be completed when you received our booking confirmation. Please refer the cancel policy as if you need to cancel your reservation.
Cancellation or Modification of Bookings

A cancellation fee will be charged if you cancel 14 days or less before check in day. If you need to modify your reservation or the number of people staying, please let us know as soon as possible. Our charges differ depending on the number of guests.
Room Capacity and Bedding

A maximum 4 people in 1 room. Over 4 people are not acceptable in one room. In each room has twin bed. We set FUTON (Japanese style bed on floor) for 3rd and 4th guests in Japanese Tatami room. Be aware that OYAMA and OIKE Japanese room are on 1st floor that is separated from the main bed room on 2nd floor.
Accommodation Restriction

In Kyoyado USAGI, the charges differ depending on the number of guests. Only registered guests can stay at Kyoyado USAGI, we do not allow unregistered persons to stay.
Pets

We do not allow any pets to stay.
Luggage Drop and Delivery

We can look after your luggage from 12pm on your arrival day. Be sure to arrive it on your arrival day between 12pm-6pm when you send it. Kindly notify us in advance when you bring it in before check-in. To send your luggage from Kyoyado USAGI, please ask concierge during your stay. We have service and charge to send to JR Kyoto station, to next accommodation within Kyoto city and to Kansai Airport. To send to other places may cash on delivery only.
Room Cleaning Service

Cleaning time 11:00am~3:00pm
We make up room after spending every 3 nights, means on day 4th, 8th and so on. We have a limited cleaning service on other days such as clean toilet, collect trash, change towels and wash dishes etc.
Parking

Please let us know how many parking lots you need. When our parking is full, we direct you where to park on your arrival.
Room Equipment

Equipment should not be moved from the room. If any equipment is damaged or lost, we kindly ask you to pay compensation regardless of whether it was intentional or accidental. Thank you for your understanding.
Our details and regulations may be found at this link (House Regulations & Accommodation Contracts)
Proudly awarded Kyo-Machiya Award from Kyoto City.
Kyoyado USAGI was officially commended and given credit for its achievement in renewing and using Kyo-Machiya, the historical and cultural symbol of Kyoto, to contribute to make Kyoto townscape beautiful and dignity.
»Check the detail.