ENGLISH2018.05.08
Now for the 3th time!  It's getting bigger and bigger every year.
More than 20 Japanese Art exhibitions in our 4suite rooms.
You will meet Japanese traditional arts such as hand made dishes and bowels,
Paper crafts, stone arts, bamboo crafts, textiles and more!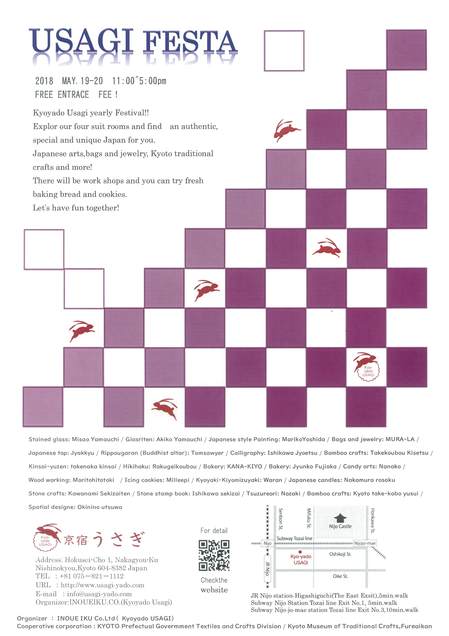 【TITLE】USAGI FESTIVAL
【DATE】19th (Sat),20th (Sun) 2018
【TIME】11:00~5:00pm
【PLACE】Kyoyado Usagi  /english/
【FEE】Free
〈Artists〉
Stained glass : Misao Yamauchi
Glasriten : Akiko Yamauchi
Japanese style Painting : MarikoYoshida
Bags and jewelry : MURA-LA
Japanese top : Jyakkyu
Rippougaran(Buddhist altar) : Tomsawyer
Calligraphy : Ishikawa Jyoetsu
Bamboo crafts : Takekoubou Kisetsu
Kinsai-yuzen : takenaka kinsai
Hikihaku : Rakugeikoubou
Bakery : KANA-KIYO
Bakery : Jyunko Fujioka
Candy arts : Nanako
Wood working : Moritohitotoki
Icing cookies : Milleepi
Japanese candles : Nakamura rosoku
Kyoyaki / Kiyomizuyaki : Waran
Stone crafts : Kawanami Sekizaiten
Stone stamp book : Ishikawa sekizai
Bamboo crafts : Kyoto take-kobo yusui
Tsuzureori : Nozaki
Spatial design : Okinino utsuwa
〈Work shops〉*Requires a fee
19th and 20th
・Glasritzen (Akiko Yamauchi) : Glass Engraving
・Japanese top (Jyakkyu) : Make tops
20th
・Icing Cookies (Milleepi) : Make cookies with Icing.
①     11:30~
②     13:30~
③     15:30~
〈Organizer〉
INOUE IKU Co.Ltd( Kyoyado USAGI)
〈Cooperative corporation〉
KYOTO Prefectual Govermment Textiles and Crafts Division
Kyoto Museum of Traditional Crafts,Fureaikan
Visit us and get a free souvenir!