今年もBooking.comから京宿うさぎに素敵なお知らせが届きました。クチコミアワード2020は10点満点中9.4点でした。昨年よりも+0.1の高い評価を頂き、スタッフ一同嬉しく思うと同時に、よりよいお客様へのおもてなしを心掛けていきたいと思っております。
Kyoyado USAGI is awarded GUEST REVIEW 2020 on Booking.com. We got 9.4 point out of 10, and are proud of higher satisfaction from our wonderful guests. We thank for our guests from our hearts.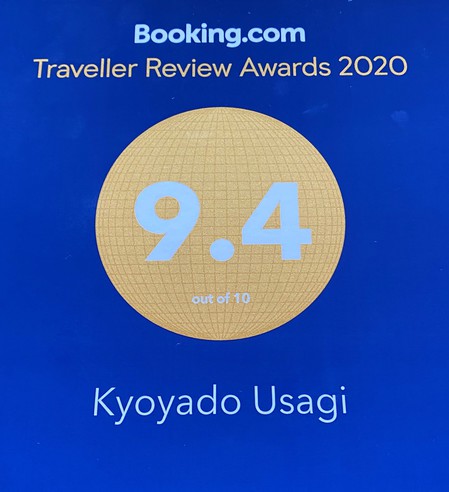 Booking.comでご予約ご宿泊いただいたお客様の声を少し紹介させていただきますね。
「1泊じゃもったいない!」
「非日常が味わえる」
「部屋の広さ、設備、雰囲気 何をとっても最高です」
「とても良い思い出になった」
「部屋が快適だった」
など多数お褒めのお言葉をクチコミ頂いております。
We'd like to introduce some comments from our guests.
"comfort very quite location"
"Huge size in comparison to hotels"
"Flat is amazing. Big, modern but with many Japanese touches. Comfortable beds, big bathroom with jacuzzi and wash&dry machine. Staff helpful and very nice. Super cleaned"
Thank you for lovely comments.
今後もより多くのお客様に京宿うさぎを知っていただき、ご利用していただけるように精進してまいりますので引き続きご愛好くださいますよう宜しくお願い申し上げます。
Kyoyado USAGI is luxury and open space Machiya accommodation. No other Machiya could feel Japanese tradition and modern style like we provide. We are looking forward to seeing you in the near future.
【クチコミアワードとは】
Booking.comにおいて、過去1年間に、お客様から10点満点で投稿されたクチコミの平均スコアが8点以上の旅館・ホテルなど宿泊施設に贈られる賞です。
【What is GUEST REVIEW AWARD】
It's an award which is given to the accommodation that got the average score marked over 8 point of 10 among last year.